So the Keto diet has definitely become very popular, and if you're planning to give it a go, then welcome! Now, unless you want to have the boring old egg salads for your lunch, I bet you would be looking for some creative, delicious, and simple lunch recipes.
So here are 8 simple and easy keto lunch recipes to get your keto diet plan into action! 
You can browse through this range of recipes to find options varying from vegetarian to non-vegetarian, from salads to sushi, from Mexican to Italian, you name it, and it's got to be on this list!
So be sure to have the right amount of deliciousness and the right amount of keto elements, and get started with your keto journey with these simply delicious keto lunch ideas:
1. Philly Cheesesteak Lettuce Wraps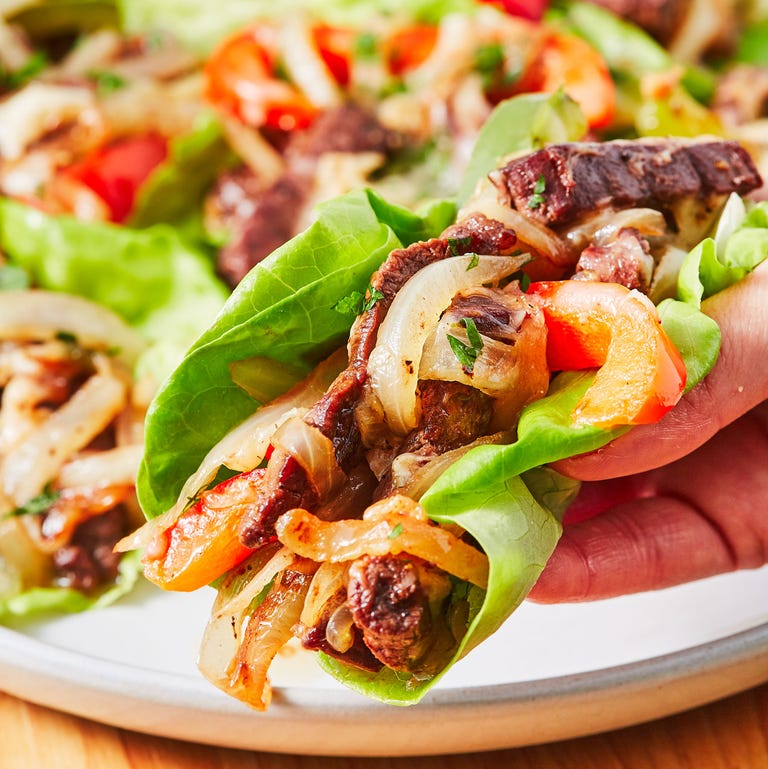 What's your favorite part about the cheesesteak? I think it's the steak that makes the cheesesteak the delicious wonder that it is. And just because you're on a keto diet does not mean you have to give up awesomeness in the form of cheesesteaks. They may not be 100% authentic, but trust me, they're just what you need. 
Check out this recipe here.
2. Cauliflower Fried Rice 
This cauliflower fried rice is everything that you love about mouthwatering Chinese takeout and more. It's quick and easy to make, and it'll make you taste buds tingle. But the best part is that it won't make you feel gross and bloated after you eat it. This recipe right here is a win-win.
Get the full recipe here.
3. Blackened Shrimp, Asparagus, and Avocado Salad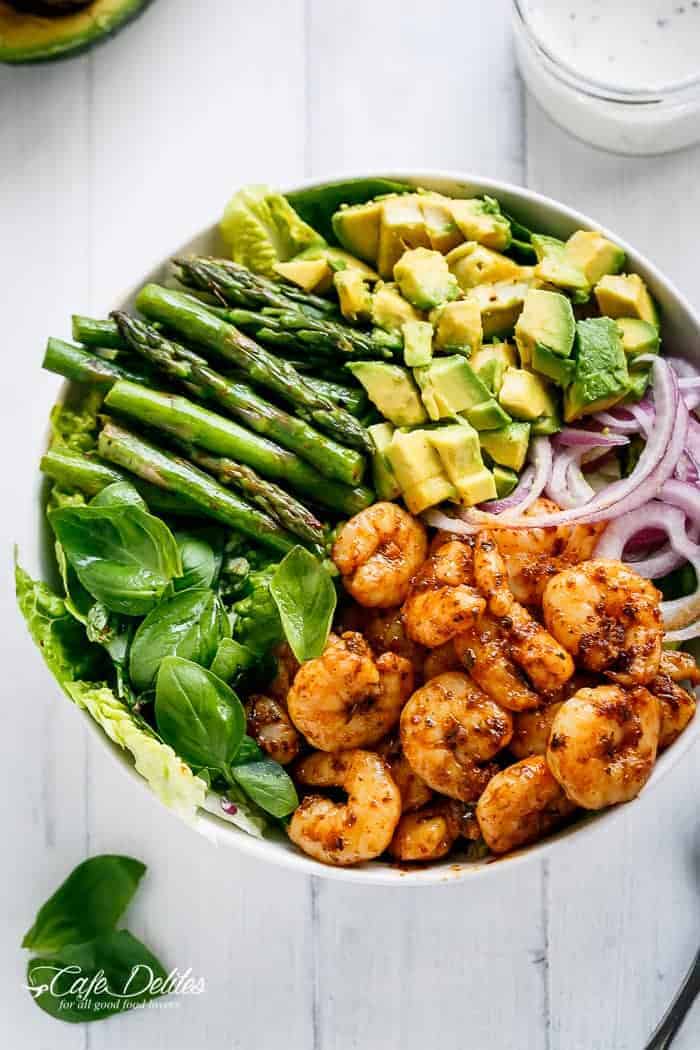 The Cobb salad is the only salad I keep hearing about ever since I've started the keto diet. But it's time to switch it up. With Shrimp, Asparagus, and Avocado, this salad has the perfect amount of spice. Especially with home-made spices, this salad is out of this world.
Grab the recipe here.
4. Keto Sushi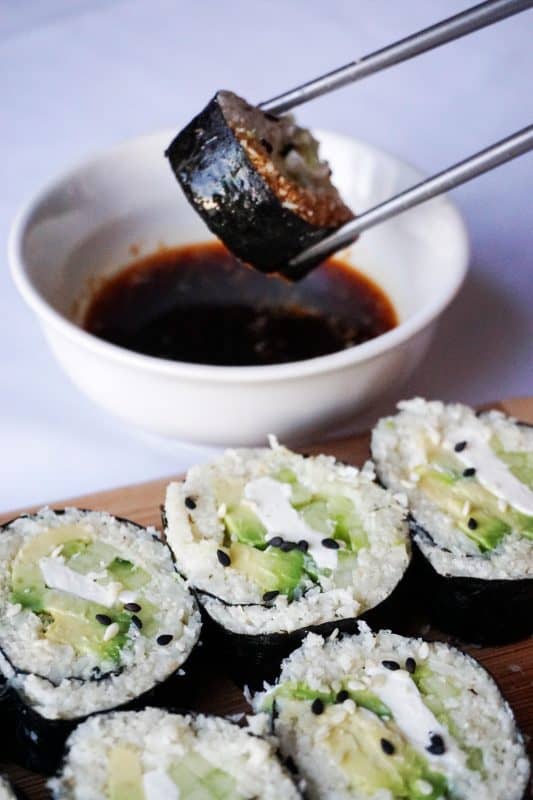 Sushi is one of my favorite foods. It's definitely on my list of top three foods I miss since I've started a keto diet. I looked for a keto sushi substitute for months, but I didn't think that would be possible without using rice. But this recipe took me by surprise. It's a perfect stand-in for traditional sushi, and if you're a sushi lover, you've got to give this keto lunch idea a try. 
Get the recipe here.
5. Easy Italian Chicken Bowl
No mess, packed with flavor, this is the easiest keto meal prep plan ever. This delicious keto bowl is packed with healthy veggies and seasoned with classic Italian spices. To make this recipe, all you have to do is throw everything on a sheet pan and bake it. 
Check out this recipe here.   
6. One-Pot Cheese Taco 
Want a quick low-carb budget meal? This delicious veggie-packed beef taco is easy to make and can be made in an instant pot or even a skillet. If you want your kids to eat vegetables, there's no better way. This cheesy beef taco is perfect for burrito bowls and salads, and it has tons of hidden veggies in it.   
Get the full recipe here.     
7. Cheesy Cauliflower Breadsticks
Last week, I was craving cheesy breadsticks real bad, and fortunately, I found this fantastic recipe that could not get any simpler. These cheesy cauliflower breadsticks are gluten-free, low-carb, and an absolute treat. There's nothing stopping you from having delicious breadsticks that are oozing with cheese, even if you are on a keto diet. 
Grab the recipe here.  
8. Keto Quesadilla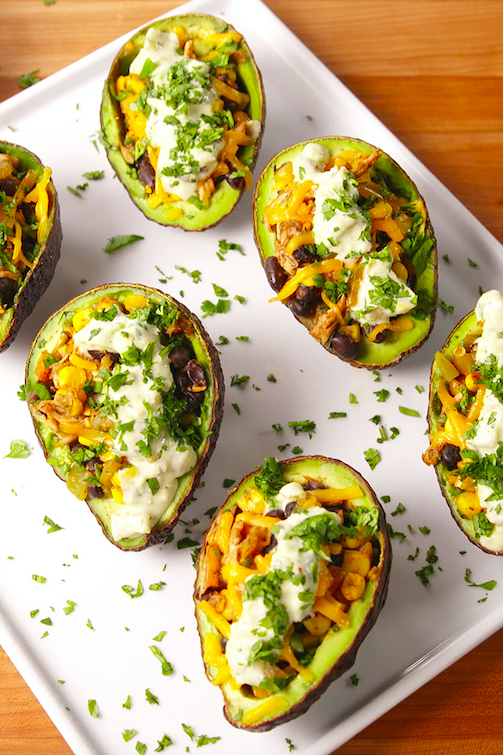 Alright, folks, I agree that this keto quesadilla is not a one-to-one replacement for the beloved Mexican dish. But when the craving strikes, this low-carb quesadilla is all you will need. The tortillas in this recipe are not made of cornflour, but cheese! With this delicious recipe, you'll get cheese in every bite. Yum!
Get the recipe here.
That's all, folks. If you liked this post, be sure to check out our other posts about keto breakfast recipes and keto dinner recipes.
If you have any questions for us, please let us know in the comments below.