You have been told that food with a lot of fat content is bad for you all your life. But recently, the health community has finally accepted that it isn't so bad after all. And that's why we've got 7 delicious keto dinner recipes that you need to try
All credit for fat making its way off the unhealthy foods list goes to the trendy ketogenic diet. This diet allowed people to embrace foods that have high-fat content and are generally considered to be unhealthy.
If you don't know what a ketogenic diet is, you should first read our article about the keto diet, explaining everything you need to know about it.
Before keto, you wouldn't believe me if I told you that you can eat bacon and cheese while still losing weight. But once you understand how this diet works, it all starts to make sense. 
Here's the only problem. Since you've been told all your life that fat is bad, now you have no clue what to make once you have started your keto diet. Don't worry. We got you. These mind-blowing keto dinner recipes can be made in 30 minutes or less. 
Not only will your family love you for these delicious meals, but it will also ensure that the ratio of carbs and fats in each meal you consume is just right.
1. Creamy Tuscan Garlic Chicken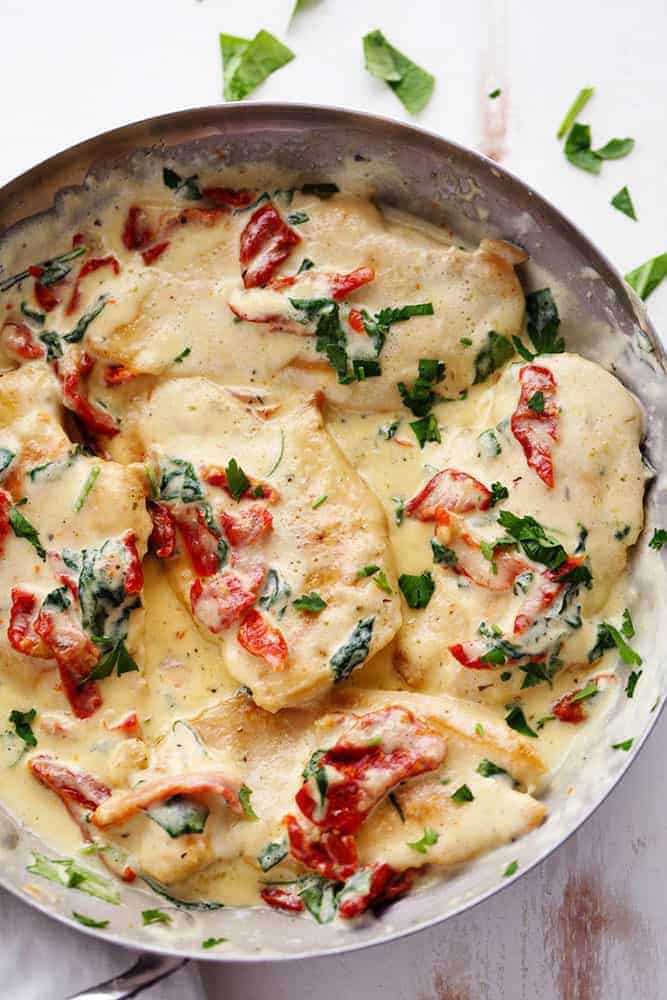 It's hard to believe that a meal so creamy and cheesy is on a keto dinner recipes list. With a keto diet, carbs are off the table, but full-fat dairy is not. The sauce has a delicious creamy taste, a hint of garlic, spinach, and sun-dried tomatoes.
This meal tastes like it has come straight out of the kitchen of an Italian restaurant. Your family will fall in love with it the moment they take their first bite. Put this meal at the top of your list. You won't regret it. 
2. Chicken Tomato Zoodles 
If you are on a keto diet and craving for heavy, creamy pasta, this meal is perfect for you. The best part about this meal is that unlike pasta, you will feel light even after eating a full plate of chicken keto zoodles. 
Zoodles are the keto alternative to noodles. It is essentially just spiralized zucchini. But if you don't have a vegetable spiralizer at home, don't worry. There are other ways to make this dish.
 You can always use your vegetable peeler to make zucchini tagliatelle. However, it is recommended that you use a vegetable spiralizer to make zoodles as it gives it a much better texture. 
3. Turkey and Peppers
If you want to spice up your dinner this week, check out this fantastic turkey and pepper sauté. It is made with lean turkey tenderloin filets, sweet bell peppers, onions, herbs, and roasted fire tomatoes. 
This recipe can be made in under 20 minutes using a single pan. This recipe is also gluten-free, so anyone can enjoy it. If you love turkey chili, this recipe is going to make your mouth water.
4. Fried Chicken
Wait. What? Isn't deep-fried food bad for you? Yes, it is why we bake the chicken in an oven in this recipe and not deep fry it. But doesn't fried chicken have breading? No, you can't eat the breading, but we've got a fix for that too. 
For the breading of this recipe, we will use crushed pork rinds and a combination of spices. Everything that is used in this recipe is keto-friendly. Once this comes out of the oven, what you get is crispy southern fried chicken that even Colonel Sanders would approve of.
5. Cream of Mushroom Soup
This is my absolute favorite on this keto dinner recipes list. Creamy soups are the ultimate comfort food. This mushroom soup is made with just 7 simple ingredients. This soup is not only low-carb, thick, creamy, and delicious, but it is also gluten-free.
It is a fantastic starter for your meal, and it can be made in just 30 minutes. This dish can be incorporated into other recipes, but it tastes delicious even on its own. Try it out, and you will understand what I'm talking about.
6. Shrimp Scampi
Traditional shrimp scampi uses linguine noodles, but that is high in carbs. So, you can replace the linguine noodles with squash noodles, which is made of summer squash. 
To make this meal, you're going to need a spiralizer tool to cut your squash into noodles. You can also try to do this using a peeler, but using a vegetable spiralizer would be much more effective. 
This dish is so freakin' close to the real deal that you might not even realize that the noodles are made out of squash. It is lemony, buttery, and just spicy enough to keep your tongue tingling. 
7. Butter Chicken
Since we've already established that saturated fat is perfectly okay to eat on a keto diet, you can go ahead and enjoy this decadent butter chicken. 
To make the most nutritious version of butter chicken, you need to forgo the butter and replace it with clarified butter, also known as ghee. This dish has a touch of spice to it, but you can leave out the jalapenos to make it milder.
Either way, it will keep you craving for more.
If you liked this post about keto dinner recipes and want to know more about the keto diet, check out our article where we explain everything you need to know about the keto diet.