We've all been stuck at home for a while, haven't we? 
For me, this has meant going out for dinner less, spending more time in the kitchen, and preparing more home-cooked meals for the entire family. 
At first, this was a lot of fun, but soon this resulted in our grocery bills skyrocketing. 
I knew that it was time to make some changes to my eating habits. However, this was not going to be easy. 
See, my health is very important to me, and whenever I make food for my family, it's always healthy food. The only problem – eating healthy is expensive. At least that's what I hear all the time! 
But is eating healthy really that expensive?
If you look at the average American family's annual spending, food is the third most expensive spending after housing and transportation. 
They knowingly spend more than they can afford on dining and groceries. Americans are literally chowing down on their income. 
Most people justify this by saying that healthy food is expensive and they want to eat healthily. However, this is only partly true. 
Eating healthy on a budget is possible. 
Don't believe me? I've got 10 healthy and cheap recipes to back up my claim. 
Enough said. I'll get right into it!
1. Sweet N' Spicy Chicken Bowls
Bowl meals are my favorite! They're easy to prepare, can be easily stored in the fridge, and offer a great variety of flavors and textures. This recipe is low in sugar, high in fiber, and it's loaded with deliciousness. 
Get the recipe here.
Total Cost – $6.05 or $1.51 per serving
2. Greek Turkey Burgers
This burger is packed with flavor and has tons of veggies in it! Spinach, garlic, lemon, and feta cheese, really do pack a flavor explosion into this healthy Greek turkey burger. Top all that off with a delicious dill & garlic yogurt sauce, and you have yourself the perfect turkey burger. 
Get the recipe here.
Total Cost – $11.47 or $1.91 per serving
3. Chipotle Chicken Chili
It's fall season, y'all. And I don't know about you, but a good bowl of chili is my favorite comfort food. This recipe is a rollercoaster of flavor on its own, but the best part about this or any chili recipe is that it's highly customizable. 
This recipe also tells you how to customize chili and make it your own!
Get the recipe here.
Total Cost – $9.28 or $1.55 per serving
4. Curried Chickpeas With Spinach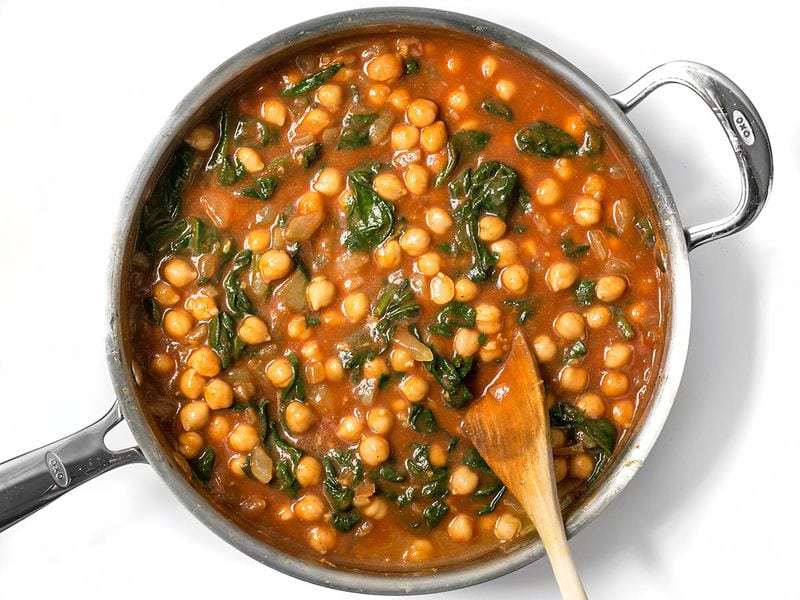 Want to make something delicious with minimum ingredients? Stop right here! That's exactly what this recipe is – uncomplicated, fast, and yummy. Serve this over rice, or pair it along with some pillowy naan.
Get the recipe here. 
Total Cost – $4.68 or $1.17 per serving
5. Vegan Red Beans And Rice
For all you vegetarians out there, this is the vegan version of the classic Louisiana red beans and rice, made with pork. This recipe is healthy, filling, and absolutely delicious! What more can you ask for?
Get the recipe here.
Total Cost – $7.40 or $1.23 per serving
6. Sloppy Joes Plus
What's the plus, you ask? It's lentils! Surprisingly, lentils make a great addition to ground beef. It increases the texture, makes it more flavorful, and of course, makes it healthier. They're super easy to make and are freezer-friendly too. 
Get the recipe here.
Total Cost – $10.28 or $1.29 per serving
7. Easy Oven Fajitas
It's quite difficult to replicate that authentic fajita flavor without a grill or a cast iron griddle. This easy oven method has gained a lot of popularity recently and for good reason! Cooking it in an oven tastes way better than in a skillet. The best part? You can set it and forget it!
Get the recipe here.
Total Cost – $8.67 or $2.17 per serving
8. Chicken And Lime Soup 
I'm a soup-for-any-meal kinda person. It's tasty, healthy, easy to make, and filling. That checks all my boxes. What makes this soup so freakin' delicious is its perfect mix between spicy, salty, and sour – all thanks to lime. It has that just right flavor combination that tickles your tongue. 
Get the recipe here.
Total Cost – $7.76 or $1.29 per serving
9. Slow Cooker Chicken Ropa Vieja
Chicken Ropa Vieja is a Cuban dish that's basically chicken stewed down with tomatoes, peppers, and onions. This delicious recipe is easy to make and packed full of flavor. This tender and flavorful goodness can be served over rice, or you could use it to fill a taco or a burrito. 
Get the recipe here.
Total Cost – $7.89 or $1.32 per serving
10. Spicy Tuna Guacamole Bowls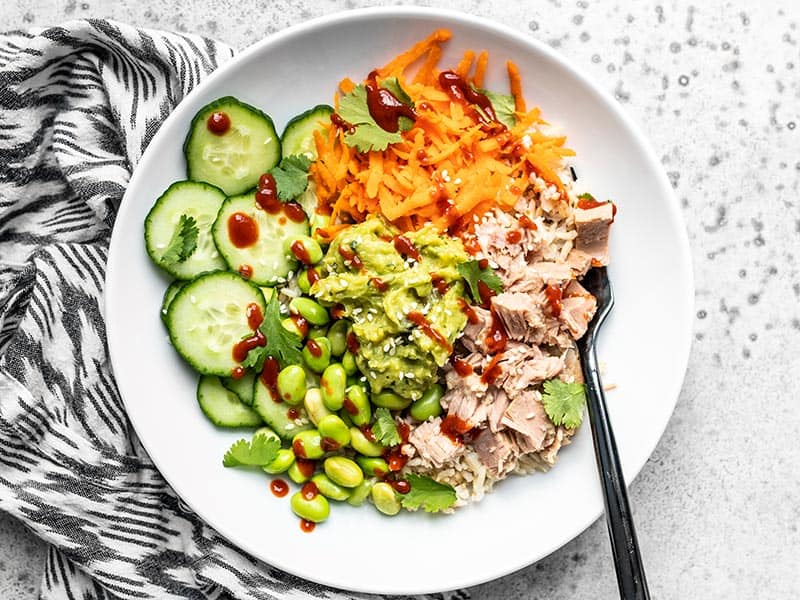 Didn't I tell you I love bowl meal? Well, I really do! So, here's another delicious bowl recipe that I think you'll love. This fantastic recipe brings together the fresh flavors of cucumber and cilantro with spicy hot sauce, crunchy carrots, rich guacamole, and yummy tuna. This bowl is eaten cold, which makes it super refreshing. 
Get the recipe here. 
Total Cost – $8.05 or $2.01 per serving
These 10 cheap and healthy recipes are enough proof for anyone who doesn't believe that it is possible to eat healthy on a budget. 
An added bonus of eating these healthy foods before bed is that your sleep quality will improve drastically. If you're having trouble with your sleep and are interested in learning some easy tips to improve your sleep quality, check out our article on 10 Surprisingly Easy Tips To Sleep Better.
I hope you enjoy these delicious recipes as much as I do. If you have any questions for us, please leave in the comments below!